Review of Dusk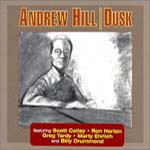 Downbeat
July 2000, volume 67 #7
By Gene Santoro
Four-Stars
Andrew Hill has made a career of confounding expectations and intermingling styles, inventing his own in the process. His adamant refusal to be pigeonholed- bop, hard bop, avant-garde- has been a model for scores of younger musicians, and he continues to find bandmates who are open-eared enough to share his quirky vision.
For his Palmetto debut, Hill has assembled a thorny horn section with strong individual voices. Their unison movements, which abound in Hill's arrangements bristle with energy, especially when underscored by the composer's characteristically shifting time signatures. On the tumultuous "15/8," Hill puts his front line through some rigorous paces. After bassist Scott Colley- who sounds throughout like he was born to play Hill's music- sets up a blistering tempo and the pianist sketches the melody, the horns charge in, providing a bustling backdrop for Hill's solo. A unison passage sets the stage for a scurrying clarinet solo by Marty Ehrlich and an invigorating chase section. Trumpeter Ron horton engages Colley and drummer Billy Drummond in a brisk conversation, which quickly gives way to another squawling horn chorus and then- the climax- a Trane/Ali-style dialogue that culminates in some corrosive roaring by Greg Tardy's tenor. Colley and Drummond restore order, and the horns take it out with a reprise of the theme. Whew!
Writing like that makes it seem impossible that Hill's glory years are 35 years in the past, and playing of that order makes it clear that he can still inspire sidemen to step up a couple of notches. Not all of the ensemble pieces reach the heights of "15/8," though there is a beautiful cantorial sax solo by Ehrlich on "Sept" and some delightfully meandering work by the rhythm section on the title track.
Hill includes two brief solo performances: "Tough Love," a shimmering meditation filled with sustained notes, and the closing "Focus," which stands as a textbook example of his truly original approach to the keyboard. Snippets of melody slide past like fragments of a half-remembered dream, thin block chords create odd punctuation, and the composition resolves unexpectedly but perfectly.
Welcome to andrew Hill's world- always an interesting place to visit.
Track listing: Dusk; ML; Ball Square; Tough Love; Sept; TC; 15/8; Focus. (58:54)
personnel: Andrew Hill, piano; Ron horton, trumpet; Marty Ehrlich, clarinet, saxophone; Greg Tardy, saxophone; Scott Colley, bass; Billy Drummond, drums.