You don't know what you got till its gone. I mean, you do, you try, but in Andrew's case, it was a large "passing ship" to take in. It was an honor to play with him for sure. He let me know in small ways that he didn't want my improvising to be regular, but instinctive and expressive. You had to use your ears. Over the three or four years he did the Point of Departure Sextet, the compositions melded together in my mind as a sound world. As unique as they could be, they all at some point had a phrase or phrases that could be a supplication, something that grabbed the listener from within this floating world of harmony and rhythm. So its' hard to claim one piece as my favorite composition. I'll choose his dedication to Thomas Chapin, "T.C.", on the Dusk CD.
I didn't play with Andrew for a number of years, and then he called me to do two gigs with his quintet, with Charles Tolliver, John Hebert, and Eric McPherson. Musicians talk all the time about a use of space, but on these gigs, it became an intense reality. The less I played in my solos, the richer the music seemed to me. Like a slow paced dance going on below the surface of the music making.
I marveled at the sound Andrew got from the piano, the way he brought out the overtones in a chord, the sense of depth in the sonic field. There was a lot of mystery goin' on. Maybe you can't know until it's already gone. Happy Birthday, Andrew!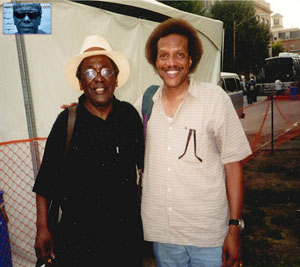 Chris Burnett and Andrew Hill
A picture with the great pianist and composer, Dr. Andrew Hill. His set at the 2003 Iowa City Jazz Festival was AWESOME! It seemed like the temperature on that July day was close to that of the surface of the sun - it was very hot... But, the music was worth enduring the heat. A friend of mine and I drove there from Kansas City specifically to see him perform. What has always moved me about Dr. Hill's music is the fact that he always seemed to be so aware of the fact that he was creating something that had never been heard before.
This particular interview segment is one of my favorites because, like his music, the words he is quoted as saying are true, yet still so subtle ...
A FIRESIDE CHAT WITH ANDREW HILL www.jazzweekly.com/interviews/hill.htm

FJ: You made your way to New York in the early '60s, do you recall how vibrant the scene was during that time?

ANDREW HILL: Oh, the scene was budding, Fred. There was a lot of what I call flowers on the scene because it was the zenith of jazz as a popular music. It came from a period where everyone who played music had heard music in their neighborhoods from black theatres where they had bands. It was the last of a period. It was almost like being there after the party. The party was over, but there was still a few things to be had...
--Chris Burnett, Alto Saxophone and Composer
---
Andrew Hill was a hero, mentor, and supportive friend to me and to a number of other young musicians. His music changed my life, repeatedly, starting in the early 1990s. Every time I heard him live, I would find my usual sense of time and space overridden or intensely altered.
I introduced myself to him several times throughout the 90s, and eventually Hill came to recognize me as one of his crazed Bay Area fans (along with pianist Graham Connah, whom I first met with a copy of the LP Smokestack under his arm, as we both stood in line at Yoshi's to see Hill in action). One particularly revelatory evening was Hill's performance with Trio 3 (Workman, Lake, Cyrille) in '94 or so. I also saw him at Maybeck Recital Hall, Mills College, the Oakland Museum, Golden Gate Park, and several times at Yoshi's -- unfailingly magical and beguiling.
My move to New York coincided with his full-fledged return to the scene from Portland, so I started seeing him even more frequently. In 1999 when I was on a Steve Coleman tour, he played solo before us in Verona. I seized the moment and talked to him for a while, and perhaps he started taking me more seriously after that. We became friendly enough that he started coming to my gigs. He would call me early the next day to tell me what he thought, often to devastating effect; his gentle but frank words would echo in my head for weeks afterward, leaving me to rethink everything. Once when the collective trio Fieldwork played at the KF's AlterKnit, Andrew was in the front row at a table with Henry Threadgill and Muhal Richard Abrams, making it one of the scariest evenings of my life.
I was glad to be around to observe his post-millennial renaissance. He made such interesting and careful choices in his music and career, and he provided a model for how to achieve longevity in a challenging area of the music world.
And then one summer Andrew told me he was dying. We were standing outside the hotel at the North Sea Jazz Festival. My heart dropped, but he was oddly upbeat. He had known for some time, and I was left thinking that maybe he found solace in the certainty of it, knowing that the coming years would be framed by this circumstance.
The last time I saw him was at Merkin Hall last fall, for the recreation of Passing Ships. His advanced frailty was heartbreaking to see, and I was mortified by the presenters' thoughtlessness: a man dying of lung cancer was made to carry his own chair, and then interviewed on stage without a microphone. But Andrew's good humor and his top-form playing dispelled all the pity in the room; we were in the presence of sheer mastery.
Afterwards I was headed for the subway, but as I reached the corner something told me to turn around. The building had closed but I talked my way back inside, found him backstage, and sat with him and his wife Joanne for an inspiring half hour. He was remarkably warm, light-hearted, lucid, even affectionate. This was our last earthly interaction, and it will always be a cherished memory for me.
Andrew Hill's recordings, performances, compositions, and personality influenced me to such a degree over such a long period that he feels like family, like a part of me. I am humbled and blessed to have received his generosity, wisdom, and friendship. His spirit lives on through his musical legacy, his vast influence on modern music, and all the lives he touched.
----Vijay Iyer, New York City, April 25, 2007
---
My name is Dave Evans, I'm one of Andrew's cousins we were related by marriage. Andrew was like a brother to me, he and my cousin were married over 25 years. I knew Andrew from childhood, as a child I remember meeting him for the first time at the Red Carpet, it was a black club in L.A. my cousin Laverne (Andrew's wife) was the regular entertainer there. From time to time I would perform therewith her, I'm a singer, Andrew was in L.A. on tour with Roland Kirk. They met that night, and were together until her death in 1989. Andrew has given me almost his entire collection. There's one album that I let someone borrow, and never got it back. This album was very special to me. It was written, in memory of one of my brothers.( From California with love, to: rev. Dubop.)The song (Rev Dubop, Andrew had written lyrics for), but I never got the chance to record it. The album was released in 1979, it looked like a big post card, the name rev dubop was my brothers handle back in his old gang bang days. Andrew was a beautiful spirit, /I was blessed to know him. He believed in his art, never selling out, nor compromising the art. He lived and loved jazz to the fullest. I remembered once I asked him about doing other styles, incorporating other types of music to attract more people. Would you ask Picasso, or Dali to change the stroke of the brush to attract more, but not please your own soul? Andrew believed in himself, his art, and true jazz! I say, well done!! Andrew will always be in my heart, and I will always honor the spirit of jazz,
Much love to the art, and those who love the art of jazz!
--Dave Evans III, August 2007
---
This is Roberto Zorzi, from Verona, Italy. I've been from 1979 to 1988 Verona Jazz Fest. co-artistic director. We've found out and invited Mr. Hill to play here for the first time in 1980 and during the eighties in 1986 w. Ben Riley, Rufus Reid and Clifford Jordan and 1988. He recorded some great LPs for Soulnote during that period, as you know. I remember that during the quartet's gig in 1986 he stopped C. Jordan (who was a bit smoked) and begin to count the time of the piece on stage. Audience laughed. Great Andrew !!! We've been friends until his last moment: I've met him last year at Vicenza Jazz Fest 2006 and had a dinner together and he was really relaxed and friendly, as ever.
--Roberto Zorzi
---
His music had a subtle, adventurous spirit that evokes great joy and saddness. Music that touches the soul and mind as great art should. I am richer to have experienced it. Thank You.
--Musician, Fan, James Lambert, Vancouver Canada
---
For Andrew - April 27, 2007
Many of you have had the privilege of knowing Andrew and Joanne for many years. I have had perhaps less moments of time in which to know them but I, too, feel blessed.
I remember when Andrew came to Boosey & Hawkes this past fall. When I saw him walk through our doors...I now think back as to how humbled I was by his strength. Adorned in all black, I remember that even in his weakened state, that he drove himself to our offices and looked so regal-such an impeccable yet effortless elegance-rare these days. As we chatted after the formal meeting, that's when we got to know each other a bit.
We offered him a selection from our scores. I noticed all the while through our chit chat that his eyes were keenly focused on one particular piece of music. He gently asked—"May I have this?" When I handed Andrew the score, he just beamed. The piece of music? Elliott Carter's string quartets. Andrew's soft-spoken but direct request further revealed to my colleagues, many of whom come from a classical perspective, as to what type of serous artist we were hosting that day! Andrew went on to say that he was working on a new string quartet. In the course of our goodbyes, I casually mentioned that I was a violinist and Andrew immediately asked if I would try his violin part for the new quartet. In my head, I was thinking, "Oh, my! It's like Stravinsky or Carter asking me…what should I do? Well, I'm going to need to dust off my fiddle and get to some serious sheddin!'" The words that came out of my mouth to Andrew? "I'd be honored." With a B&H bag chock full of music, with the Carter score prominently displayed, Andrew and I embraced and one of the truest geniuses I have ever met left to go on with his day.
Another memory of Andrew was formed just last month, right here at Trinity. I know the trend now is to casually talk about spiritual experiences but witnessing Andrew's concert with John and Eric did indeed take me to another realm. Of course, I knew there were many, many people around me but somehow I felt that the music was just for me—and after awhile the music transported me to an inner sense of tranquility and peace. It was hard to verbalize or utter anything afterwards-as I thought words somehow would take away from the brilliance of the moment. Andrew was able to whisper a few words to me and others.
What I remember of that day I will never forget. Joanne lost her balance just a bit and Andrew offered his right arm to her, just a bit, and just enough. A small gesture but one that spoke volumes to me of their deeply rooted love for one another. One can only pray and hope for this type of eternal romance and commitment. When leaving the church, I noticed Andrew's shoes—well-worn but fine brown leather. He caught me admiring them and he smiled. While other folks were gathering themselves and reflecting, something in me urged me to look back…and I did and am so glad I did.
Andrew stood on the church steps, with Joanne at his side. The sun was almost too bright as it seemed to envelope him. I stood there with my hand in the air and smiled until he could do the same, which I could tell was not easy. Andrew Hill once hugged me at a concert and the same almost inexplicable power that he was able to call upon with his hands on the keys and with his music-making was the same bolt I felt in the embrace and in that smile-summoning up an unforgettable dynamism and vitality.
--With Peace and Love...Adina
---
Andrew Hill
Composer. Pianist. Champion.
Time forms a pool for the seeker of currents.
Freedom sings. Passion stirs, like waves
no longer bound by distant shores.
Ambitions whisper humbly
from every breeze. Aspirations
gather on every sigh
of the tide.
The rhythm of the waters, elusive
in its steady flow, persists in
its swaying melody.
It is a harmony that permeates
the world. A feeling which
few touch.
In strides the seeker of currents,
heeding the timeless call
of a different drum.
--by Michael F. Hopkins
© All rights reserved written July 22
nd
, 1995, attuned January 7
th
, 2005
---
As some of you know, Andrew Hill was special to me and a lot of other folks as well. Andrew was quiet, thoughtful, very kind, humorous, deep, and, needless to say one of music's great composers and pianists. There will never be anyone else like him. I regret that we did not get to write the book we had wanted to on his life. I remember a story his first wife Laverne told me about their days in NYC. Although a little fuzzy on some of the details at this point, it seems either they moved into an apartment with Charles Mingus living right next door, or he moved in next to them. Laverne noticed a decline in Andrew's playing of the piano and she asked him why. He mentioned that the walls were thin and he was afraid Mingus might "lift" some of his ideas. (They could often hear Charles playing the piano). One afternoon, when Laverne came back to the apartment, she found Andrew holding a glass to his ear, with the top of the glass flush with the wall. It seems that Andrew was doing some serious Mingus research!!!!
We have his music to continue to "lift" us. If it continues to connect with audiences, that is the legacy he would want. Go buy yourself one of his great recordings and then give it to someone who hasn't heard him much, even if that person is you!!! One of the great honors of my life was to be of his acquaintance. He was so generous with me. I am very proud to have recorded Andrew's appearance at the SF Jazz Festival this past fall (2006) for my KCSM radio series. I was able to get a copy to Andrew and I hope his family and Blue Note Records will see fit to release this recording for everyone to hear. I guess I knew it was the last time I would see him. But his spirit and his talent never was less than what I had ever seen. I guess that made me feel as if that night, Andrew would live forever at least in our hearts and minds. Andrew! we love you!!!
--Jim Bennett, In The Moment/KCSM, Forms and Feelings/KPFA
---
Attention collegues and fellow musicians that have worked or been touched by Andrew Hill. E-mail me some short text and perhaps a photo if you have one and I will post them here.